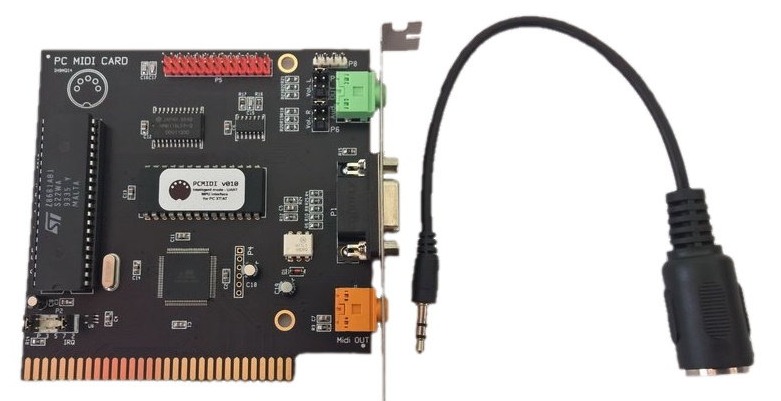 ISA 8-bit MIDI Interface Card for IBM PC XT-AT and compatibles
NOT IN STOCK AT SERDASHOP.
CHECK LINK BELOW IN DESCRIPTION FOR ORDERING FROM THE ORIGINAL DESIGNER.
HE WILL BUILD A BOARD FOR YOU ON DEMAND.
Allows the user to connect midi devices to his XT-AT class computer without having to worry about compatibility or extra drivers/setup.
Wavetable daughterboards and external units can be used at the same time without issues.
Please check Phil's Computer Labs in-depth review:
https://www.youtube.com/watch?v=ymQJvwOTM0E
Features:
- Fully Roland "Intelligent Mode" compatible , no drivers needed - full hardware solution with 100% game compatibility
- Fully UART mode compatible
- Wavetable header for midi daughterboards , 100% bug-free
- External MIDI connectivity: 3xOUT ports, 1xIN port - each card is sold with a 1xOUT cable (schematic to make a DB9 cable with the rest of the optional extra ports are provided in the package)
- Volume attenuation jumpers for loud daughterboards like the XR385
- Internal wavetable audio-out header
- Under Windows the card works with the embedded "Roland MPU-401 Interface" drivers
- Manufactured with brand new quality precision parts
Software/documentation support package located here:
http://www.mediafire.com/file/h7qh5c15hz8ft3g/PC-MIDI_MPU_Software-Docs_Package_v2.zip/file
Contact form for reservation/ordering from the original designer : http://www.pcmidi.eu/order.html