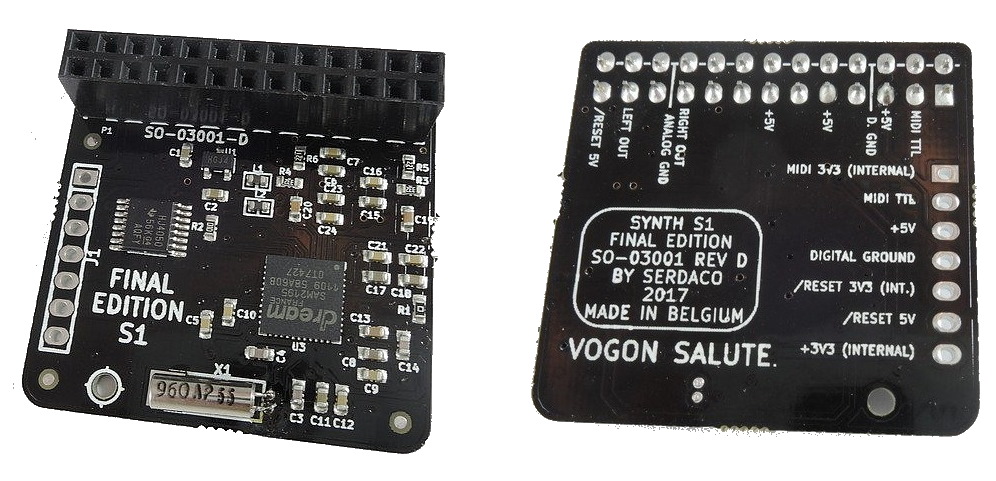 S1 'Black Final Edition'. Limited Edition 2017.
COMPLETELY SOLD OUT !!
A successor PCB DreamBlaster S2, is available now
Also you can have a look at S1's big brother synth PCB
X2 .
S1 'Black Final Edition'. Limited Edition 2017 specs :
Waveblaster compatible synth module based on the SAM2195 chip.


64-voice polyphony (without effects)
38-voice polyphony + effects
High quality, compact size
CleanWave soundset
General MIDI compatible effects
4-band stereo equalizer
Low power consumption, only 5V supply required (no +/- 12V)
Low noise audio output
Can be used on Waveblaster Compatible soundcards
Can be used for electronics projects, such as arduino, raspberry pi, midibox,..
Small size, ideal for building into projects : 36mm x 35mm
SAM2195 MIDI specifications and chip datasheet : click here.
This board is intended for testing, education, development, and usage in custom projects and prototypes.
Compatible with any soundcard that has a Waveblaster connector, SoundBlaster 16, Audician 32, ESS AudioDrive, Aureal Vortex 2 and many others.
Can be used in Oberheim MC2000
Follow
these simple instructions
to convert your Dreamblaster S1 into a good looking standalone MIDI module. (using S1 module + S1 interface PCB + enclosure kit).
Also suitable for use in electronics projects and retro gaming pc's.
S1 Video review with sound demos by Philscomputerlab on youtube
Youtube MIDI Demo's for X1 and S1
See/hear DreamBlaster S1 in action
here in Monkey Island 2